Termites
Termites are often called the "silent destroyer" because they may be secretly hiding and thriving in your basement or yard without any immediate signs of damage. While each termite species thrives in different climates and eats different types of food, all termites require four things to survive — food, moisture, shelter and optimal temperature. Unfortunately, all homes, regardless of their construction type, can provide these ideal conditions for termite infestation.
Termites are detrivores, or detritus feeders. They feed on dead plants and trees as well as dead parts of living trees, including wood and wood in the soil. A termite's mouth is capable of tearing large pieces of food. This ability is what causes concern in human dwellings: while termites only measure approximately one centimeter in length, their feeding habits are capable of causing costly damage to property. House foundations, furniture, shelves, books, carpets and insulation are all possible feeding sites for termites.
Termite castes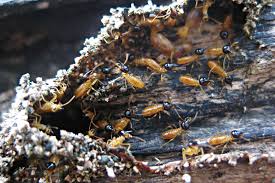 Termite colonies are divided into distinct castes with clearly-defined divisions of labor. Together, they assure the colony's survival and growth.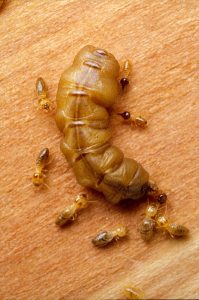 The Queen
The Queen's main duty as the primary or sole reproductive female of the colony is to lay eggs, and in a year she may lay tens of millions of them. In mature colonies, supplemental reproductives may also lay eggs, making for a staggeringly rapid potential rate of colony growth.
The queen also secretes chemical messengers called pheromones that regulate various aspects of the colony's life. It is believed that these pheromones directly control such things as the gender and caste of other members and their respective duties within the colony.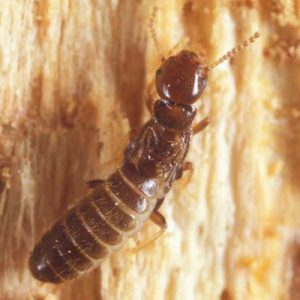 The King
The king is the male member of a termite marriage. Back before the colony was first established, he emerged from the parent colony with his bride in search of a suitable place to establish a nest of their own. Hundreds or thousands of other mating pairs did the same thing, but most of them perished in the attempt.
Once the king and queen found a cozy place of their own, he helped raise the first generation of offspring. But ever since that generation grew up and became workers, the king's life has consisted solely of his reproductive duties.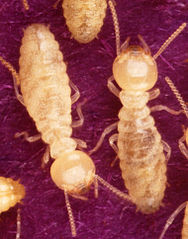 Worker Termites
The great majority of members of a given termite colony are workers. These harmless-looking, grub-like insects are also the ones who do all the damage.
Workers alone possess the mouthparts needed to chew wood, and they feed the rest of the colonies members from the wood that they forage. Their duties also include maintaining the colony's system of mud tubes, caring for young, and performing housekeeping duties.
Alates (or Swarmers)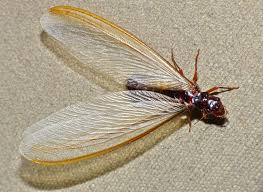 Alates (commonly called swarmers) are sexually mature, winged termites of both sexes who will leave the parent colony in a swarm to establish colonies of their own. Most will perish in the attempt, their shed wings and carcasses the only memorial to their noble effort.
Quite often, a homeowner will first become aware that their home has a termite problem when they find dead swarmers or their shed wings along basement walls, in window frames, on sill plates, or in other areas in and around their homes. But by the time a colony has produced swarmers, it has been in existence for several years.
Soldier Termites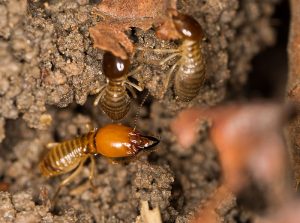 Like swarmers, soldier termites only exist in mature termite colonies. Their job is to protect the colony from predators (mainly other insects). Their large, hardened heads and powerful mandibles are adapted for fighting and are their most obvious identifying features.
Soldier termites are incapable of chewing wood and must be fed by workers. Their presence is nonetheless significant, however, as it indicates that the colony is a mature one that has been in existence for at least a few years.
Ants
 Ants are the number one pest problem in the country. Ant control can be difficult, but there are some things you should know about how ants' behavior can lead to big headaches for you and your home: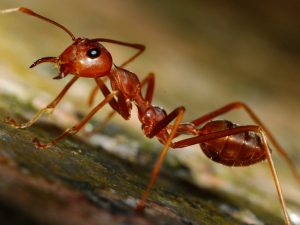 Entry: Ants can enter through even the tiniest cracks, seeking water and sweet or greasy food substances in the kitchen pantry or storeroom areas.
Scent trails: Ants leave an invisible chemical trail which contains pheromones for others to follow once they locate the food source.
Nest locations: They can nest about anywhere in and around your house; in lawns, walls, stumps, even under foundations.
Colony size: Can number up to 300,000 to 500,000 and whole colonies can uproot and relocate quickly when threatened.
Colony Lifetime: A colony can live a relatively long lifetime. Worker ants may live seven years and the queen may live as long as 15 years.
Do-it-yourself ineffectiveness: Most do-it-yourself ant control approaches only kill the ants you see. Some truly effective treatments can penetrate and destroy nests to help prevent these pests from returning. Also, home remedies don't account for the fact that different kinds of ant infestations require different treatments
Cockroaches
Cockroaches belong to Kingdom Animalia, Phylum Arthropoda, Class Insecta and Order Blattaria. Some species invade human dwellings and are considered pests. These cockroaches can be carriers of various diseases because they are commonly found near waste deposits or in the kitchen, where food is present. Restaurants may also experience cockroach infestations.

Cockroaches can measure over one inch in length, with tropical species tending to be larger than those found in other climates. Cockroaches have six legs, two antennae and wings. However, a number of winged cockroaches are not particularly adept at flying.
Cockroaches emit unpleasant odors and may also produce sound. The Madagascar hissing cockroach is the most famous of these vocal cockroaches, although more common species may produce quieter clicking or chirping noises.
Cockroaches can wreak havoc on your home. To win the war in cockroach control, here's what you should know:
Entry: Cockroaches can enter your home in many different ways, from the outside through cracks and crevices, vents, sewer and drain pipes. We even bring them in on products like grocery bags, boxes, purses and on our person!
Ideal environment: Your home is an ideal breeding ground most species of cockroaches. With plenty of food, warmth, water and nesting sites, they can remain active all year round.
Reproduction: Cockroaches reproduce quickly. For every one you see there can be many, many more hiding and multiplying behind your walls.
Evasiveness: Because cockroaches are nocturnal, if you've seen one, you probably haven't seen them all. The few cockroaches you see by day could mean they were likely forced out by overcrowding; a possible sign of severe infestation.
Allergies/Asthma: The dust created by cast-off cockroach skins, dead bodies and droppings can aggravate allergies, especially in children and sensitive individuals.
Do-it-yourself ineffectiveness: Cockroaches are better at hiding than you are at finding them, and their eggs are naturally protected from insecticides. Without special equipment, materials and know-how, cockroach control can be a losing battle
Rodents
Rodents' instincts make them difficult to control, and they present a serious menace to your home. If you're in need of rodent control services, here's what you should know about these pests:
Rats
Instincts: Rats are instinctively wary of rat control measures such as traps and bait, and colonize in attics, burrows, under concrete and porches, in wall voids and other hard to reach places.
Disease: Rats can harbor and transmit a number of serious diseases. They can also introduce disease-carrying parasites such as fleas, lice and ticks into your home.
Mice
Access: They invade your home seeking food, water and warmth. Without mouse control intervention, one pair of mice may produce 200 offspring in four months.
Contamination: Each mouse can contaminate much more food than it eats.
Rodent Facts
Rodents are warm-blooded mammals that, like humans, can be found throughout the world. They have oversized front teeth for gnawing and check teeth, which are adapted for chewing. Rodents chew on anything available to them and cause great damage in and around homes.
Rodents tend to be rapid breeders. Some species breed year-round. Although certain mice are known for short life spans due to predation, populations are maintained through constant reproduction. Because most rodents possess soft cartilage, they are capable of squeezing through spaces that appear to be much too small for them. All such holes should be stuffed with steel wool and sealed with spackle or cement to prevent entry and re-entry of rodents.
Rats and mice are both extremely destructive within agricultural communities. A number of species feed on seeds and grains. The feces and urine of some rodents may contaminate surfaces with which they come into contact.
Rat removal
Rats have long been considered deadly pests. Once considered an modern myth, the rat plague in India has been verified. Indeed every fifty years, armies of bamboo rats descend upon rural areas and devour everything in their path.  Still, the Center for Disease Control does list nearly a dozen diseases directly linked to rats.
Most urban areas battle rat infestations.  New York has specific regulations for getting rid of rats—multi-family residences and commercial businesses must use a specially trained and licensed exterminator. Places to look for rat infestations are around pipes, behind walls and near garbage cans. Effective rat control requires municipal workers and individuals to work together.
Mosquitoes
Heard High Pitched Buzzing of Mosquitoes?
We have all had to deal mosquitoes. The high pitched buzz tells us that we have mosquitoes nearby, and that we should beware since mosquito bites might not be far behind. Mosquitoes can chase us indoors during the best time of the year. Is there anything short of pitching a tent that you can do to take back your outdoor living space around your home? Orkin Mosquito Service can help.
Mosquitoes or Flies?
Mosquitoes can be confused with flies. Mosquitoes have long legs, and a long proboscis or "nose" that female mosquitoes use to "bite" people and pets to draw blood, needed to lay eggs. Most flies won't bite and even long legged flies are usually much smaller than mosquitoes. Mosquitoes are pesky pests and can spread disease such as West Nile Virus, dengue, and malaria. Believe it or not, there are over 1,000 cases of malaria every year in North America. More commonly, though, mosquitoes threaten family events more than health.
Mosquito Facts
Female mosquitoes have piercing mouthparts through which they extract the blood of a host. The protein from gathered blood is used in egg production. Male mosquitoes do not have the ability to extract blood from a host.
While not particularly painful, the bite of a mosquito can prove dangerous to humans. When a mosquito inserts her proboscis through the skin, her saliva creates a small, red bump. These bumps produce mild to severe itching. Some people may become less sensitive to mosquito saliva through repeated exposure, while others may develop allergic reactions. Symptoms of an allergy include blistering and inflammation, as well as asthma-like reactions. Mosquitoes also carry diseases such as yellow and dengue fevers, malaria and encephalitis and are capable of passing them from host to host.
Bed Bugs
Adult female common bed bug
Bed bugs are parasitic insects of the cimicid family that feed exclusively on blood. The term most commonly refers to members of the genus Cimex of which Cimex lectularius, the common bed bug, is the best known as it prefers to feed on human blood.
The name of the "bed bug" is derived from the preferred habitat of Cimex lectularius: warm houses and especially nearby or inside of beds and bedding or other sleep areas. Bed bugs are mainly active at night, but are not exclusively nocturnal. They usually feed on their hosts without being noticed.
A number of adverse health effects may result from bed bug bites, including skin rashes, psychological effects, and allergic symptoms. Diagnosis involves both finding bed bugs and the occurrence of compatible symptoms.
Termites
Termite sizes
Like ants, and some bees and wasps—which are all placed in the separate order Hymenoptera—termites divide labor among castes, produce overlapping generations and take care of young collectively. Termites mostly feed on dead plant material, generally in the form of wood, leaf litter, soil, or animal dung, and about 10% of the estimated 4,000 species (about 2,600 taxonomically known) are economically significant as pests that can cause serious structural damage to buildings, crops or plantation forests. Termites are major detritivores, particularly in the subtropical and tropical regions, and their recycling of wood and other plant matter is of considerable ecological importance.
As eusocial insects, termites live in colonies that, at maturity, number from several hundred to several million individuals. Colonies use decentralised, self-organised systems of activity guided by swarm intelligence which exploit food sources and environments unavailable to any single insect acting alone. A typical colony contains nymphs (semimature young), workers, soldiers, and reproductive individuals of both sexes, sometimes containing several egg-laying queens.
Once termites have entered a building, they do not limit themselves to wood; they also damage paper, cloth, carpets, and other cellulosic materials. Particles taken from soft plastics, plaster, rubber, and sealants such as silicone rubber and acrylics are often employed in construction.
Cockroaches
Cockroach control
Cockroaches are one of the most commonly noted household pest insects. They feed on human and pet food, and can leave an offensive odor. They can also passively transport microbes on their body surfaces including those that are potentially dangerous to humans, particularly in environments such as hospitals. Cockroaches have been shown to be linked with allergic reactions in humans. One of the proteins that triggers allergic reactions has been identified as tropomyosin. These allergens have also been found to be linked with asthma.
General preventive measures against household pests include keeping all food stored away in sealed containers, using garbage cans with tight lids, frequent cleaning in the kitchen, and regular vacuuming. Any water leaks, such as dripping taps, should also be repaired. It is also helpful to seal off any entry points, such as holes around baseboards, between kitchen cabinets, pipes, doors, and windows with some steel wool or copper mesh and some cement, putty or silicone caulk.